Tree Removal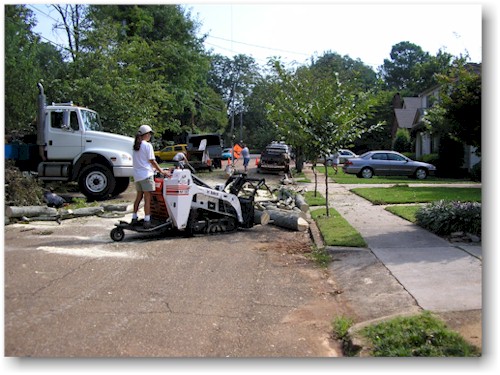 Choose an image to begin
Tree removal is one of our main specialties. Once tree removal is necessary, factors such as cost, safety and degree of difficulty, as well as disposal, cleanup, and
stump grinding
, all become primary decisions that a homeowner will have to negotiate.
We offer written contracts detailing the entire tree removal process before any work is performed. And as an additional source of customer confidence, all of our clients have access to prior customer referrals and feedback.
We are fully licensed and insured; and we make it very easy for the customer to verify all of our trade and business credentials.
The decision for tree removal is an easy diagnosis for the homeowner to consider, but often a difficult decision to accept. However, once a certified arborist has provided the client with solid evidence and sound information as to why the tree should be removed, hopefully, the client will be able to accept that in the long run, the correct decision has been made.
As a Certified Arborist, it's our responsibility to present our clients with all possible options regarding any aspect of tree care. Once this has been achieved, then our clients are able to make an informed, intelligent decision.
Tree removal prices can vary greatly depending on the situation. So, feel free to ask us any questions. We want you to have the confidence that your decision for tree removal is the correct one, since tree removal is the final phase of tree care.
Tree removal can be extremely dangerous and all safety precautions must be utilized. With an ISA Certified Arborist working on each job, and a clean safety record, we follow the standards set by the International Society of Arboriculture to ensure that each job runs safely and efficiently.
We run a clean, smooth, efficient operation on our job sites. Some have described it as "poetry in motion", others say "it's fun to watch". Our crew is clean & sober, friendly, and highly skilled in their trade. Our tree removal cleanup process is so detailed, it may appear as though we were never there in the first place.
We will be happy to provide you with a free estimate. Tree removal cost should not be the only determining factor when selecting a tree service.